Day 1

Drive Time: 10 mins
Accommodation: 5 stars Breakfast included
The luxurious Park Hyatt Dubai could be described as a city resort, located on a peaceful stretch of the Dubai Creek and adjacent to the famous Dubai Creek Golf Club.
With an award- winning spa, a beautiful oasis-style pool and delectable dining in a waterfront setting it provides a delightful retreat away from the city's bustle and ideal for a two-centre holiday or short break.
The spacious rooms all have water views of either the Creek or the marina and elegant interiors complemented by the Mediterranean and Moorish design in muted pastels. Fine dining selections range from Thai with open kitchen to modern European grills and Lebanese. For cocktails at sunset retire to The Terrace with its lounge ambience, caviar, oysters and collection of vodkas.
Rest of the day free to explore the Hotel.
Day 2
Play Dubai Creek Golf & Yacht Club

Dubai Creek Golf & Yacht Club
6857 yds Par 71
The superbly manicured fairways are undulating, demarcated by mounds, date and palm trees, and most other times by water.
Apart from the Creek, which comes into play on at least four holes, several artificial lakes add to the beauty and difficulty of various other holes.
The presence of multiple tees ensures that golfers of all calibres enjoy their day out at the course. While length of the tee helps, the premium is certainly on accuracy, especially with the approach shots as most of the greens are multi-tiered with subtle borrows.
Afternoon free to relax.
Afternoon Dubai City Tour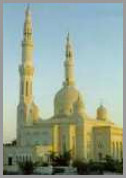 Sample the historic sites and vibrant cosmopolitan life of Dubai on this comprehensive tour. The tour begins in Jumeirah, the picturesque palace and residential area of Dubai, also home to the famous Jumeirah Mosque. The next stop is at Sheikh Saeed House (former residence of the ruling family). The tour then continues to Al Bastakiya, the old part of Dubai, to reach the museum located in Al Fahidi Fort. All aboard the Abra (water taxi) to cross the Creek to the spice souk and to the most famous landmark of Dubai – the Gold souk.

Rest of the day free to relax.



Day 3
Play Emirates Golf Club – The Majlis Course

Emirates Golf Club 7200 yds Par 72
The original home of the Dubai Desert Classic and the flagship course of Emirates Golf Club, The Majlis Championship course is a challenging par 72, 7200-yard course. Sculptured around the original tall desert dunes in 1987, The Majlis was the first grass course in the Middle East and takes its name from the Arabic for 'meeting place'.
Indeed, one of the most prominent features on the course is the Majlis building itself, positioned between the 8th and 9th holes.
The 8th hole, a par 4 dogleg is The Majlis' most unusual hole. Stroke index 3 and playing a full 434 yards, it has the unusual distinction of playing up-hill and requires a long, well directed drive to leave a reasonable second shot to its well protected green.
Afternoon free to relax.
Evening Desert Safari

In the evening, set out for "Desert Wonder" our popular Desert Safari. This tour departs in the afternoon across the desert of Dubai with several photo-stops during an exciting dune drive to the first destination - the camel farm. The drive continues across the desert.
We stop to watch the beautiful sunset before reaching our campsite where you have the opportunity to do camel riding, sand boarding and try out a henna design on hands or feet.
After working up an appetite enjoy a delicious barbecue dinner and a shisha (the famous Arabic water pipe). Before returning watch our belly dancer performing her shows around the campfire by starlight.
Day 4
Play The Montgomerie

The Montgomerie 7308 yds Par 72
The Montgomerie, Dubai's championship golf course was designed by Colin Montgomerie in association with Desmond Muirhead. The course covers 265 acres which consist of 123 acres of turf, 49 acres of man-made lakes (a total of 14 lakes), 93 acres of landscaped gardens and is scattered with 81 large bunkers.
The course provides the player with undulating "links land" style fairways with generous landing areas which challenge and intrigue all levels of player.
Although large in size, the greens can be very misleading, especially as they are consistently rolling above 9.5feet. Plenty of shape throughout the greens can result in some very trying putts.
Afternoon free to relax.
Day 5
Drive to Abu Dhabi – Al Raha Beach Hotel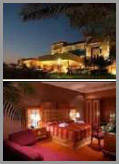 Drive Time: 2 hours
Accommodation: 5 Stars Breakfast included
Witness the resplendence of Al Raha Beach Hotel, the first 5- star boutique resort in Abu Dhabi. Once a noted site for pearl diving, this United Arab Emirates luxury hotel offers an exotic new jewel amidst a historical setting – embedded in lush parkland, overlooking the shimmering Gulf.
A mere 20 minutes from the city center, this renowned Abu Dhabi luxury hotel offers the ideal oasis in which to relax with friends and colleagues, striking deft balance between contemporary architecture and traditional design. Experience legendary Arabian hospitality, attended by benevolent staff.
Dine on international cuisine, and engage in a wealth of activities – from luxurious spa treatments and golf to boating on the Gulf's iridescent blue waters.
Rest of the day to explore Abu Dhabi.
Day 6
Play Abu Dhabi Golf Club

Abu Dhabi Golf Club presents itself as one of the most luxurious golf resort experiences within the Middle East, in full management with the renowned worldwide golf resort management organizations of excellence, Troon Golf. Fifteen minutes from the city centre and just ten minutes from Abu Dhabi International Airport, Abu Dhabi Golf Club is perfectly located for domestic and international guests. An oasis of tranquility carved out of the desert, the Abu Dhabi Golf Club features 27 Championship holes of golf, over 162 hectares of land. The course features an undulating terrain meandering through pockets of palms and ornamental trees, shrubs with seven spectacular saltwater lakes.

Play Abu Dhabi Golf Club

Discover the wonders of Abu Dhabi, capital of the Emirates, known as the Arabian Jewel. We visit the Women's Handicraft Centre, admire the skill and dexterity of local ladies making traditional handicrafts. The tour proceeds to Abu Dhabi's oldest building, Al Husn Palace built in the 18th century. Enjoy a magnificent view of the city after driving along the beautiful Corniche to the Breakwater. We then visit the Heritage Village and journey to the past to explore the life before oil was discovered.
Day 7
Drive to Al Hamra Fort Hotel & Beach Resort

Drive Time: 2 hours
Accommodation: 5 Stars Breakfast included
Standing on the most romantic sunset spot along one the United Arab Emirates' stunning beaches is the unique Al Hamra Fort Hotel & Beach Resort, crowned by a natural lagoon. Designed as a victorious Arabian Fort reviving the 1001 Arabian Nights Theme.
Wind towers, desert-inspired colours and tasteful exotic Oriental interior designs create a genuinely exotic atmosphere. All rooms are spacious, offering European standards of comfort. The Arabian Fort, authentic village and expansive green landscape combine to form an ideal location for groups of leisure, incentive and business travellers.
Rest of the day free to explore the Hotel.
Day 8
Play Tower Links Golf Club

Tower Links Golf Club 7200 yds Par 72
Tower Links Golf Club opened its doors in May 2004 with the floodlit back nine and Golf Academy. In January 2005 both the front nine and the Clubhouse were also operational. Located in the rapidly developing Emirate of Ras Al Khaimah, the Golf Course meanders through a mangrove reserve with the Hajar Mountains serving as a majestic backdrop.
Tower Links now possesses an active Golf and Social Membership whilst also catering for the demand of Golfers from the surrounding Emirates as well as the growing International tourists.
Tower Links Golf Club is a challenging 18 hole, par 72 golf course. The club possesses an outstanding range of facilities enabling golfers to improve their standard of play. The back nine holes and practice facilities are fully floodlit for night play.
East Coast Tour

Drive along the coast – with beautiful views of the ever changing scenery of sea and sand dunes – We halt at the local Market offering local produce, pottery and carpets. The Tour continues onwards via the town of Massafi, well known for its fresh water spring and Dibba, alocal fishing harbour.

Then the tour takes a scenic turn offering a stunning sight of the turquoise blue Indian Ocean. The coastal Route takes us past Bidya Mosque, the oldest mosque in UAE. Visit of Fujeirah old Fort & Museum.
Day 9
Free day to enjoy The Spa or go to the beach

Enjoy idleness and the gentle breeze from the sea at the two swimming pools with separate Jacuzzi. The magnificent beach directly in front of the resort is about 1.5 kms in length guests can choose from a large range of non – motorized and motorized water sport facilities. Drop in on the fully equipped fitness center! You will experience pure relaxation at the massage or sauna.

Rest of the day to relax.
Day 10
Play Al Hamra Golf Club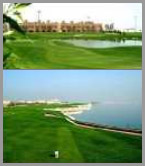 Al Hamra Golf Club 7325 yds Par 72
Al Hamra Golf Course is the first taste of "Links Style" golf in the Middle East. This eighteen-hole golf course designed by Peter Harradine is built along the shores and rolling waves of the Arabian Gulf. The course meanders around a large open sea water lagoon with four interconnected sub lagoons all being used as integral parts of the development.
As many traditional links course do the front nine measuring 3,578yards makes its way out and away from the club house, whilst the back nine measuring 3,747 returns home around the lagoon to the clubhouse. The result is a stunning Par 72 Championship Golf course measuring 7,325yards at full length, but with five varying tee options it provides a fun and enjoyable test of golf for the seasoned professional or fledgling enthusiast.
Afternoon free to relax.
Day 11
Drive to Jebel Ali Golf Resort & Spa

Drive Time: 2 hours
Accommodation: 5 stars Breakfast included
Jebel Ali Golf Resort & Spa - Known as Dubai's Only True Resort, the award-winning 5 star Golf Resort & Spa, combines exceptional leisure options with professional meeting facilities, surrounded by 128 acres of stunning natural features. This 5 star golf resort in Dubai is set on the golden shores of the Arabian Gulf and features its own private beach.
The Jebel Ali Golf Resort & Spa is situated close to some of Dubai's most extraordinary projects. Development of Dubai Waterfront and The Palm Jebel Ali continues to the north west of the resort with land profiling works the predominant activity. Palm Island's crescent and the vessels associated with creating this landmass are visible from the resort at a distance and as one of the largest manmade projects ever undertaken. Guests should be aware that noise disturbances occur from time to time.
Rest of the day free to explore the Hotel.
Day 12
Play Jebel Ali Golf Resort

Jebel Ali Golf Resort 3299 yds Par 36
The 9-hole, par 36, championship standard Resort Course is situated within the idyllic grounds of the Resort. Designed by Peter Harradine and opened in 1998, the Resort Course has hosted the world's best players as part of the official curtain raiser to the European PGA Tour event, the Dubai Desert Classic.

Each hole is uniquely landscaped with exotic trees, shrubs and original desert flora and the course also features a saltwater lake which comes into play on five holes. The wooden gazebos, views of the Arabian Gulf and peacocks which freely roam the fairways have added a special charm to this course that is a fair and exciting challenge for golfers of all abilities. Afternoon free to relax or go Shooting.
The impressive fortress style architecture as you first enter, makes the Jebel Ali International Shooting Club an imposing sight from the very start. This indoor and outdoor shooting academy, built to exacting international safety standards, makes the exciting sport of recreational and competitive shooting easily accessible to all.
Day 13
Drive to Dubai Airport for flight home
Drive Time: 20 mins
Spend morning at leisure after breakfast. Check out and meet up with your guide at reception for your drive to Dubai International Airport where you'll board your flight home.
Included
12 Nights 5 Star Accommodation with Daily Breakfast
All Transfers
7 Rounds of Golf including with motorized carts
Desert Safaris and Dinner
Dubai, Abu Dhabi, and East Coast City Tours
All local taxes, tourism levies and VAT
Courses Played
Dubai Creek Golf & Yacht Club, Emirates Golf Club – The Majlis Course, The Montgomerie, Abu Dhabi Golf Club, Tower Links Golf Club, Al Hamra Golf Club, and Jebel Ali Golf Resort
Not Included
Meals as per itinerary
Spending money
Telephone calls & Internet service
Mini-bars in rooms
Travel insurance
Gratuities
General
All prices are subject to availability. Cost of flights, if applicable, is subject to change. Bookings will only be confirmed once a non-refundable deposit (as outlined in the Pro Forma Invoice) has been received in addition to the Dadabhai Travel LLC Golf Booking Terms and Conditions, signed by all the travelers or Agents making use of our services. The non-refundable deposit must be paid upon acceptance of this itinerary. The balance payment must be paid as outlined in the Pro Forma Invoice section below. In some cases full payment will be requested at the time of booking. Any and all reservations not complying with these conditions will be cancelled, unless otherwise agreed in writing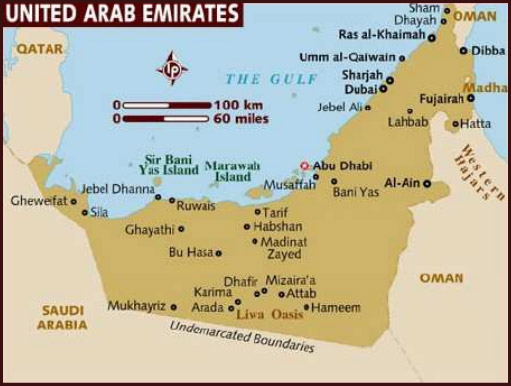 Price is inclusive of VAT (if applicable), tourism levies and other taxes (e.g. airport tax if applicable).


Price subject to change until signed booking terms and conditions as well as payment is received.


Only electronic bank transfer payment accepted. Credit cards accepted on request.


Travel insurance is not included.
Passport Requirements
Passports MUST be valid for at least six months from your return date. We recommend a validity of nine months to prevent any problems in this regard. There must be at least two blank VISA pages in
Visitors have been denied entry due to not having sufficient visa pages in their passports.
Reservations
Reservations may be made through your Travel Agent. All prices are in US Dollars and payment transactions must be made in this currency. A non-refundable 25% Deposit per person required for each land only package. In addition, full payment for the air portion of any air inclusive package is due at time of deposit. Balance of payment is to be made sixty (60) days prior to departure. Please note, alternative deposit/payment schedules apply for international destinations, group bookings or certain packages/properties. All prices are based on rates available at time of printing. Some of the golf courses, resorts and hotels do not have firm rates at time of printing; estimates are occasionally used. Dadabhai Travel LLC reserves the right to adjust package prices accordingly at time of booking.
Cancellation policy
Cancellation made up to 60 days prior to departure - penalty equals deposit paid. Cancellation made between 59 - 45 days prior to departure - penalty is 50% of package price. Cancellation made between 44 - 15 days prior to departure - penalty is 75% of package price. Cancellation within 14 days of departure or No shows - the penalty is 100% of package price. All cancellations must be received or sent to the Dadabhai Travels Travel office in writing after notification by phone.